How to Care for your Knitted, Woollen Garment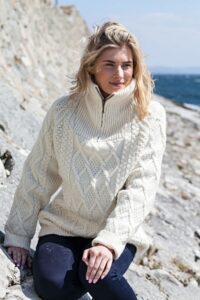 At Aran Islands Knitwear we appreciate a woollen, knitted Aran garment for the time and work that has gone into it. Whether you bought one from us or received one as a gift, proper care of your woollen garments will help them last for many years to come.
Aran or Merino wool must be washed by hand in lukewarm water as hot water will cause it

 

to shrink.

For hand washing, choose a mild detergent developed for wool.
HANDWASHING TIPS
Gently massage the garment in the lukewarm water and detergent. Never scrub or wring.

Drain the sink and add fresh lukewarm water for rinsing, repeat the process until the water is free from detergent.

Gently remove the excess water and lay the item flat on a dry absorbent towel and roll it up in the towel, pressing firmly as you roll. Do not wring the towel.
RESHAPING AND DRYING
Gently reshape the garment to its original shape. Avoid pulling or tugging.

Leave it on a flat surface and allow the item to dry overnight.

If the next day it is not completely dry, turn the garment, arrange into shape and dry overnight again.

Fold your garment and put it away. never hang a knitted garment because it will stretch
WE HOPE THAT YOU ENJOY YOUR IRISH WOOLLEN GARMENT FOR YEARS TO COME