The Aran Sweater – A Symbol of Ireland
The Aran sweater is an iconic symbol of Ireland, knit with devotion, passion and excellence. Considered by many to be works of art, these beautiful garments are classic and timeless.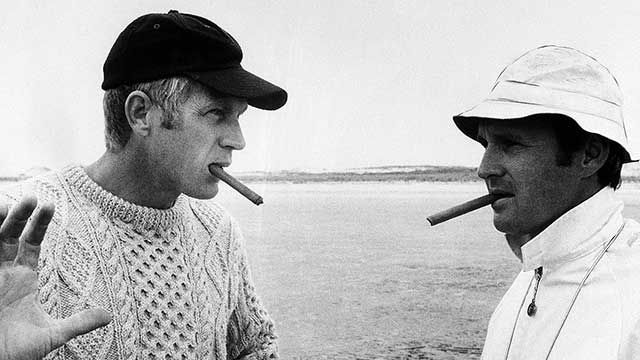 Our heritage craft has been recognised by top global designers, has featured in Vogue magazine and on the catwalk.
The Aran jumper or 'geansaí' reached global recognition in the 1950's and 60's. Photographed and filmed wearing the Aran sweater were Steve McQueen, Marilyn Monroe, princess Grace Kelly of Monaco and Elvis Presley. Around this time, the Clancy Brothers brought the Aran sweater to a huge audience when featured on the Ed Sullivan Show, the demand for the export of this fabulous piece of clothing increased dramatically.
In more recent years, Chris Evans, Sarah Paulson and Adam Driver have worn Aran sweaters on the big screen and this sweater really is a fashion statement now, especially since the most recent celebrity to promote the Aran sweater was Taylor Swift. She wore an Aran sweater in a photoshoot to promote her album Folklore. The picture of her wearing the traditional Aran sweater caused a major stir online. Even Vogue magazine wrote about the singers fashion choice!