Give the Gift of Aran this Christmas…
We have a wonderful range of knitwear and gifts available online and instore. When you give the gift of Aran, you give a gift that will last a lifetime.
Our top 5 Gift Ideas this Christmas are as follows:
Give the Gift of an Aran Sweater
Our merino Aran sweater is a must have classic piece of knitwear. Timeless and versatile, this sweater is steeped in history. The Aran crew neck sweater originated in the Aran Islands, hence it's name. It has been worn by generations of Irish men and women and is recognised globally as a symbol of Ireland. The Aran sweater is extremely versatile and cosy. Featuring the honeycomb design, this Irish sweater is knit using merino wool which is very soft to touch.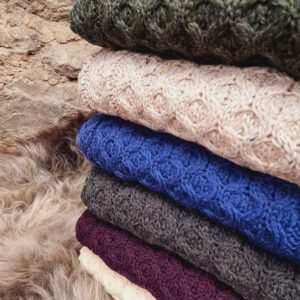 2. The Perfect Pair of Slippers
For him or for her – these mule slippers are made of 100% merino wool – making them extremely cosy and warm! With an anti-slip sole and a variety of lovely colours to choose from, these fluffy slippers are a wonderful gift!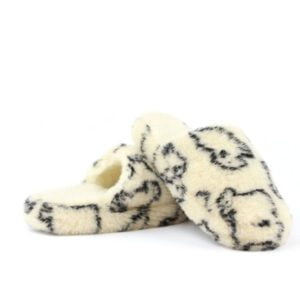 3. Recycled Wool Picnic Blanket
Our own Aran Islands Knitwear Picnic Blanket is woven using 100% recycled wool! Environmentally friendly and simply packaged as seen, this is a fabulous, thoughtful gift to give.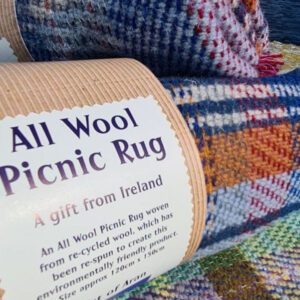 4. Hand Knit Soft Woollen Sheep
Our hand knitted soft woollen sheep is an adorable plush toy for any child. The sheep represents Ireland perfectly so makes a great gift or souvenir. The toy is knit using merino wool which is a very soft yarn, perfect for children. Please note that these sheep are sold individually.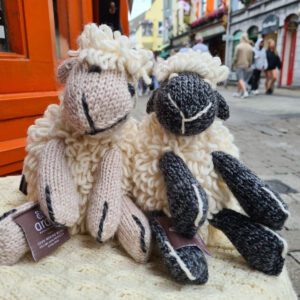 5. Pure New Wool Socks from Organically Farmed Sheep
These socks are knit using 100% Pure New Wool from organically farmed sheep. The wool is from certified organic farms where the sheep have not been dipped in substances hazardous to health. The sheep graze on land which is not artificially fertilised and their wool is processed by environmentally sensitive methods.